A University of York case study
Similar to Solent, the University of York has also been on a technology transformation journey in recent years. Since its campus doubled in size in 2012, the university has significantly increased its recruitment volume, all while budget remained unchanged. A faster, smarter and more efficient solution was necessary to sustain this growth, HR Services Manager Matthew Ramm explained.
When reviewing their recruitment process, Matt and his team spoke to hiring managers about how the experience could be improved on both sides. They also looked at 4 years' worth of data from their Hireserve ATS to work out times to hire and pinch points at each part of the process. They realised that automation needed to play a more key role in the candidate journey.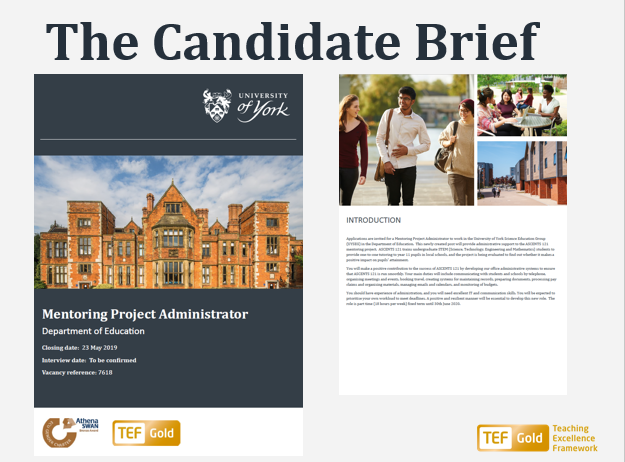 One key element that needed addressing here was the candidate brief – a professional, branded document including all the key information people needed to know before applying. The document, which could be accessed on the ATS portal, was 12-pages long, containing information about the job requirements, the department, as well as an overview of the university and the city of York. Candidates were essentially prompted to click out of the portal, download and read through a hefty document, only to be then directed back to the portal to proceed with the application.
While disengaging for the candidate, the brief also took up a lot of the HR team's time to produce, as they needed separate documents for all the 769 roles they recruited for in a year. "This added up to 5 weeks of work for my team, which is worth up to almost £3,000," Matt said.
Matt worked with Hireserve to create departmental CMS pages within the portal, featuring all key information from the candidate brief and a clear link to job adverts, so candidates wouldn't get side-tracked from applying.
By automating this step, Matt's team could focus on the quality of information they put out and learn best practice on attraction and engagement:
Content was run through a gender decoder to ensure a fair and equal outreach,
The pictures used were representative of a diverse talent population, 
Job descriptions were kept clear and concise,
All attraction campaigns were kept in line with the university brand.

Matt and JP's case studies prove that with the right technology solution in place and an honest vendor partnership, we can address the gap between quantity and quality of service in recruitment.
View Matt Ramm's presentation
---
Matt Ramm, HR Services Manager, University of York
"University of York, Recruitment Review 2018-2019"