Using Content to Address Challenges
Once the framework was established, our audience took part in a group exercise, addressing individual recruitment challenges along the journey to identify the content and touchpoints that could help alleviate them. Challenges can be defined as breakages in this process and it is our job as recruiters and marketeers to approach them at a granular level to understand their cause and solution.
"One of the reasons why recruitment challenges may seem impossible to solve is because they are so broad," Rob explains. Issues such as diversity & inclusion or employer branding can permeate across all 5 stages of the journey but if you dig down you will find a specific part of the process that is worse than others and warrants priority attention.
A Novo Nordisk case study
Novo Nordisk is a global healthcare company, employing over 43,000 people in 79 countries and operating in more than 170 markets, with profits reinvested in the further development of healthcare solutions.
Alongside a great corporate brand, Novo Nordisk's EVP is also well looked after, providing employees with great work-life balance, onsite health and wellbeing benefits, as well as getting them involved in relevant industry initiatives. But despite an exemplary EVP, the organisation had very little awareness in the talent market. So they decided to partner with Talent Nexus to help build up the public perception of their employer brand.
A recent initiative the team participated in was Cycle for Cities, a national cycling trip where employees travelled around various cities meeting with doctors and patients to raise awareness for diabetes. While the initiative was covered well from a corporate and consumer aspect, the employer brand side was heavily underinvested in.
Talent Nexus jumped at the chance to enhance Novo Nordisk's brand on the basis of this great cause, but initial budget was small and timescales were tight. At the same time, there was a lack of confidence among employees to reveal internal activities due to the confidential nature of the industry.
The team had to make a big impact quickly with limited resources. So they decided to tap into the power of brand ambassadors, working with enthusiastic employees who were involved in the initiative to promote the event on social media. On the day the event started, employees were equipped with a GoPro camera and an instructions booklet to document their cycling experience on video.
A professional filming crew was also involved to cover the project from a corporate marketing perspective. At the end of the filming, the cyclists were asked how they felt to take part in the initiative as Novo Nordisk employees. This footage, along with the user generated content, were used to compile a short promotional video to raise awareness for the Novo Nordisk employer brand.
It was clear from the beginning that the main challenge that the organisation needed addressing was the employer brand. But following a series of initial conversations with the business, Rob and his team managed to drill the issue down to a lack of employee advocacy. Confidence and enthusiasm levels needed to be raised to turn employees into brand advocates. A transparent and flexible approach to marketing helped gain stakeholder buy-in for this campaign.
The end result showed that it doesn't take a large budget for a content piece to achieve great impact. The campaign's strength lied in the authenticity of the content and the passion of the employees.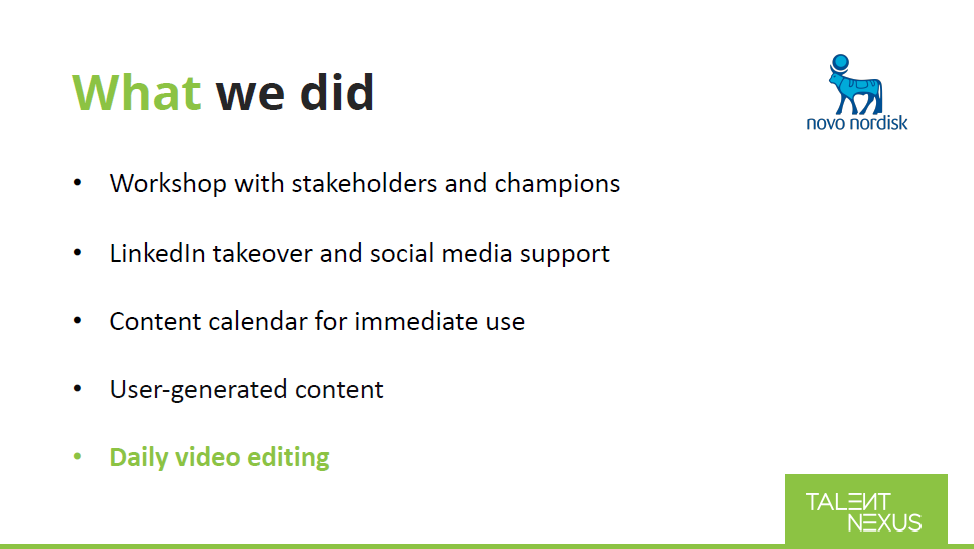 Hear Rob's case study presentation
---