Building Content for the Candidate Journey
"When we look at the research and ask employers what their top recruitment challenges are, we increasingly find that these can be alleviated by marketing solutions," Rob Prince, Client Services Director at Talent Nexus, explains. Recruitment teams need to think more like marketeers when reaching out to talent and use targeted content to nurture them through the journey.
But content marketing is a relatively new and often unexplored concept within recruitment. Traditionally only available to organisations with large budgets and resource to spend on a campaign, content has now hit a point where it is much more accessible to the wider industry. The rise of social media and recruitment technology have allowed any employer to make use of content marketing in some way.
"Content used to be missold to recruitment as a replacement for advertising spend." But this couldn't be further from reality, Rob points out. Content should never be seen as a replacement for any other type of marketing methodology. It is a tool that any recruiter can use at any stage of the candidate journey to facilitate the transition into the organisation and improve conversion rates across the entire journey.
To begin thinking more like marketeers, we need to ask ourselves how we can turn people who have never heard of our employer brand before, into vocal advocates. Below, we take a look at how we can devise content solutions to alleviate conversion challenges at each stage of the candidate journey.
Rob breaks down the candidate journey into 5 key stages which should establish the foundation for your content and candidate marketing strategy:
The Stranger stage:

these are potential candidates who have never heard of your brand, never considered you as an employer or have never interacted with any of your assets before.

The Visitor stage:

anyone who has engaged in some way with something you produced or own.

The Candidate stage:

anyone who has applied for your role and is currently on a hiring journey with you.

The Employee stage:

successful candidates who have accepted your offer and are now employed within your organisation.

The Advocate stage:

employees who are actively engaged with your advocacy programme.
Our jobs, as recruiters, is to ease progression through the journey by establishing touchpoints at each stage. These touchpoints can come in the form of platforms, individual content pieces, interviews and other conversations.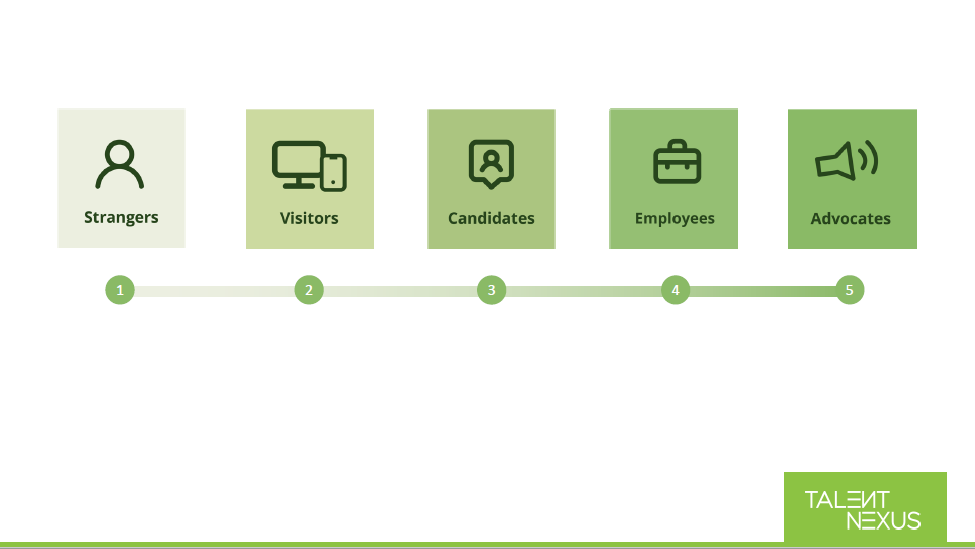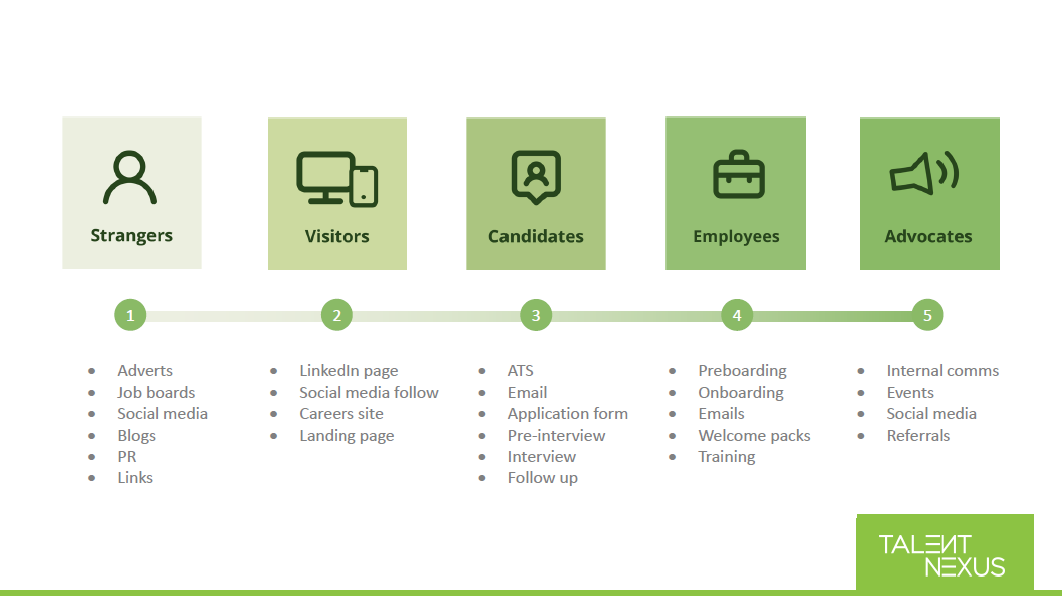 During the workshop, attendees worked in groups to identify the touchpoints they should apply at each step of the candidate journey. Some of these included:
The Stranger stage

: job ads, social media channels, careers fairs, corporate communications, press releases, blogs and podcasts – to establish brand awareness.

The Visitor stage

: careers site, targeted advertising, an owned Glassdoor page – anywhere where the employer controls the communication.

The Candidate stage

: ATS, e-mail, screening, interviewing, follow-ups, feedback forms – touchpoints that drive a seamless and engaging application process.

The Employee stage

: preboarding, onboarding, induction day, welcome pack, training – activities that warm new joiners into the organisation and support their development.

The Advocate stage

: internal communications, referral schemes, events, social media activity – opportunities for employees to go the extra mile to become brand advocates.
"Sometimes we get too eager to make people jump from one stage to the other, with no chance to familiarise them with our brand and processes," Rob explains. Don't rush your candidates through the journey as you will risk disengaging them too early! Tailor content to each stage to encourage progression and allow them to engage with it at their own pace.
By framing your content marketing strategy within the methodology recommended above, you will be able to flag common pitfalls at each stage and understand how you can improve, engage and use content to make your recruitment better and stronger, Rob concludes.
View Rob Prince's presentation
---
Rob Prince, Client Services Director, Talent Nexus
"Using Content to Solve Your Recruitment Challenges"