Nicky was joined on the day by Vanessa Soames, Global Head of Graduate Recruitment at Barclays, who shared an inside look at Barclays' early talent assessment process and how Capp have enhanced the experience for both candidates and assessors.
"While our cultures may be different, what we're all looking for is how well people can deal with ambiguity and resilience. And the only way we can assess that is through strengths-based assessments," Vanessa explains.
Barclays has 8 career pathways with a myriad of opportunities under each one. But for early careers talent with a limited industry understanding, knowing which pathway to choose may be challenging. So Vanessa and her team have decided to bring across relevant insight for each pathway through immersive assessment. 
Candidates are not expected to be ready-made talent, instead they are assessed on their potential in the bank's future.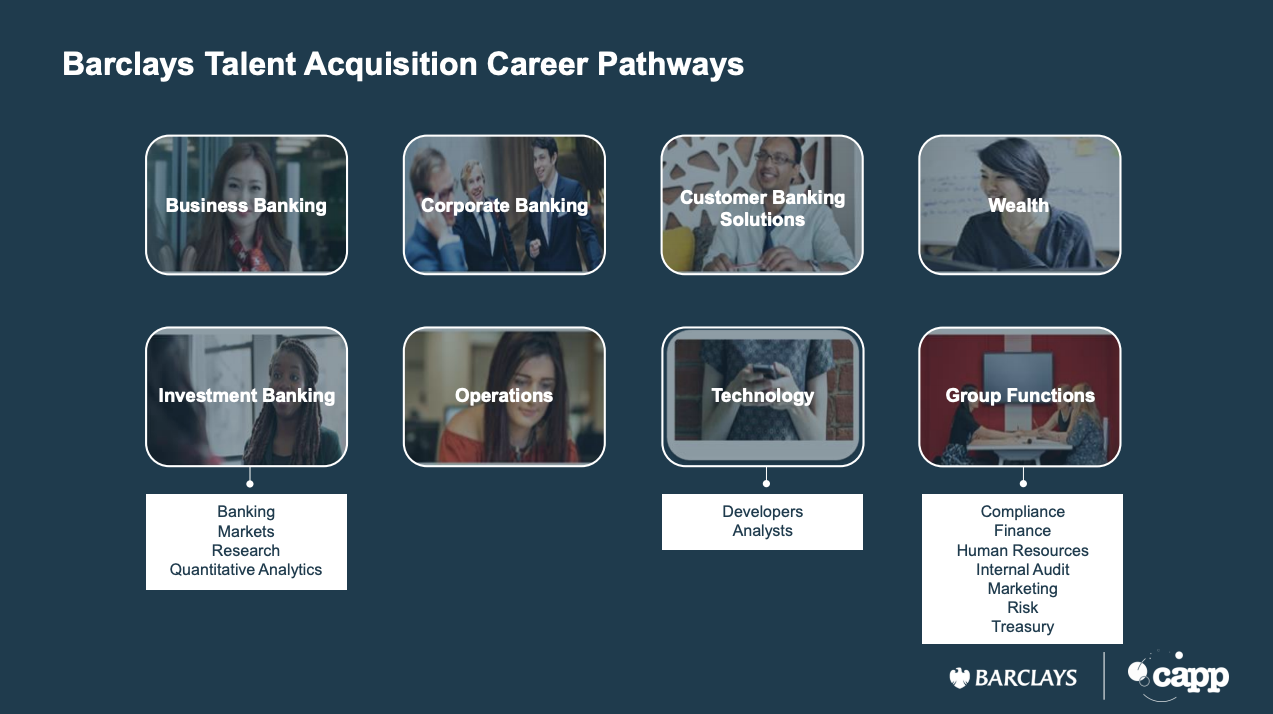 Barclays has several levels of entry for early careers talent, regardless of their chosen pathway. Vanessa lists them below:
Spring internship: 1-week work experience for students still at university. This provides a rich pipeline of talent for internship positions.
Internship: 9-week immersive experience, including upskilling, mentoring and a buddy system.
Graduate: 2-3 year development programme, with continual learning relevant to chosen pathway.
Foundation apprenticeship: 2-year foundation programme, with learning on the job and studying toward new qualifications.
Higher degree apprenticeship: 3-4 year programme working towards a degree or professional qualification, all while gaining hands-on experience.
Entry at any of the listed levels requires culture fit, an ability to deal with ambiguity and a passion for technology, Vanessa explains. So Barclays partnered up with Capp to deliver an immersive assessment experience that brings all 3 criteria to life.
Below are Barclays' key steps to an immersive assessment experience:
Online application: no CV or entry requirements (except for higher degree apprenticeship).
Business Simulation 1: immerses candidates into a scenario that is realistic to Barclays. The candidates are then tested on their decisions from a culture and compliance perspective.
Business Simulation 2: Successful candidates are taken into the second simulation, faced with the same scenario. They are given a set of tasks to complete and are assessed on how comfortable they feel in that scenario. 
Assessment Centre: Building on the scenario from the previous stages, candidates are placed in a simulated business meeting, which in some case is done in virtual reality. Successful candidates then go to the final interview.

"Take time to think about what is important to you," Vanessa advises. You don't need a big budget or a complex process to bring you organisation to life. Consider strengths-based video assessment if you can't provide a full immersive experience.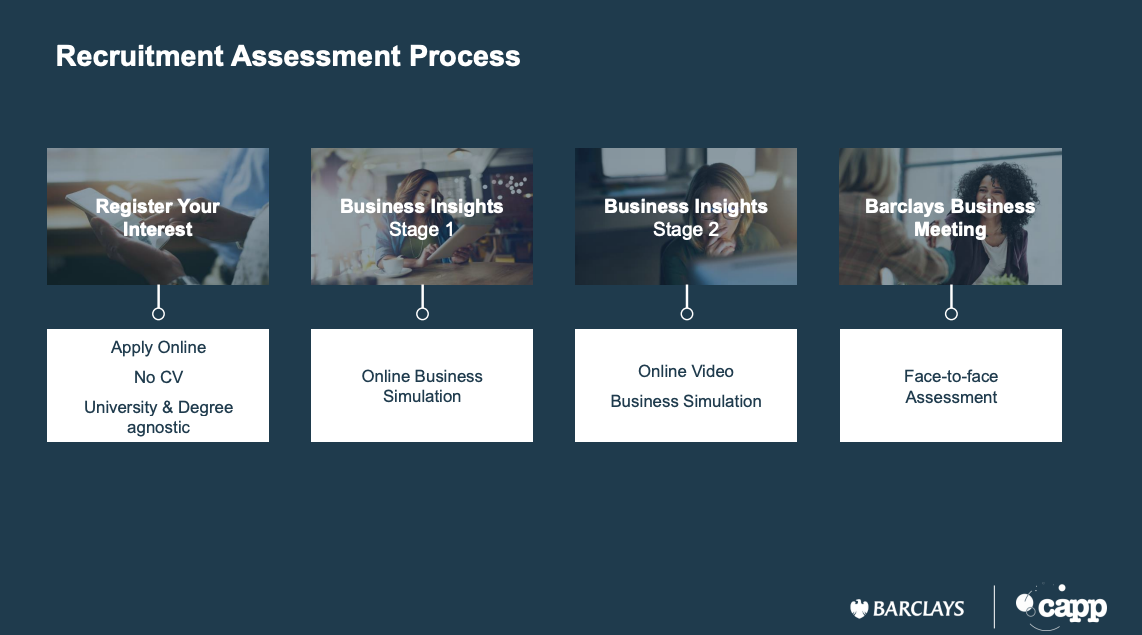 View Vanessa Soames' presentation
---
Vanessa Soames, Global Head of Graduate Recruitment BX, Barclays
"Assessing for strengths and authenticity at Barclays"