The Importance of Strengths and Authenticity
"As humans, we have a physiological need for authenticity – we constantly scan our environment for the truth," Nicky Garcea, Co-founder at Capp, explains.
In the world of work, authenticity is best reflected when employees use their strengths to get the job done. So if we recruit people based on their strengths, rather than past experiences, they will perform better, enjoy what they do and act more authentically, as a result. We can assess for authenticity by providing candidates with as much reality about the job as possible, from the moment they read the job description to the moment they come into the assessment centre.
Nicky lists 3 indicators of authenticity when assessing candidates for strengths:
Performance: how well they perform when using these strengths
Energy: how energised they are by using these strengths
Use: how often they use these strengths

It is most frequently that the last 2 indicators (energy and use) stop us from relying on past experience during assessment. While these indicators can be applied to any part of the employee lifecycle, they can also highlight potential in emerging talent.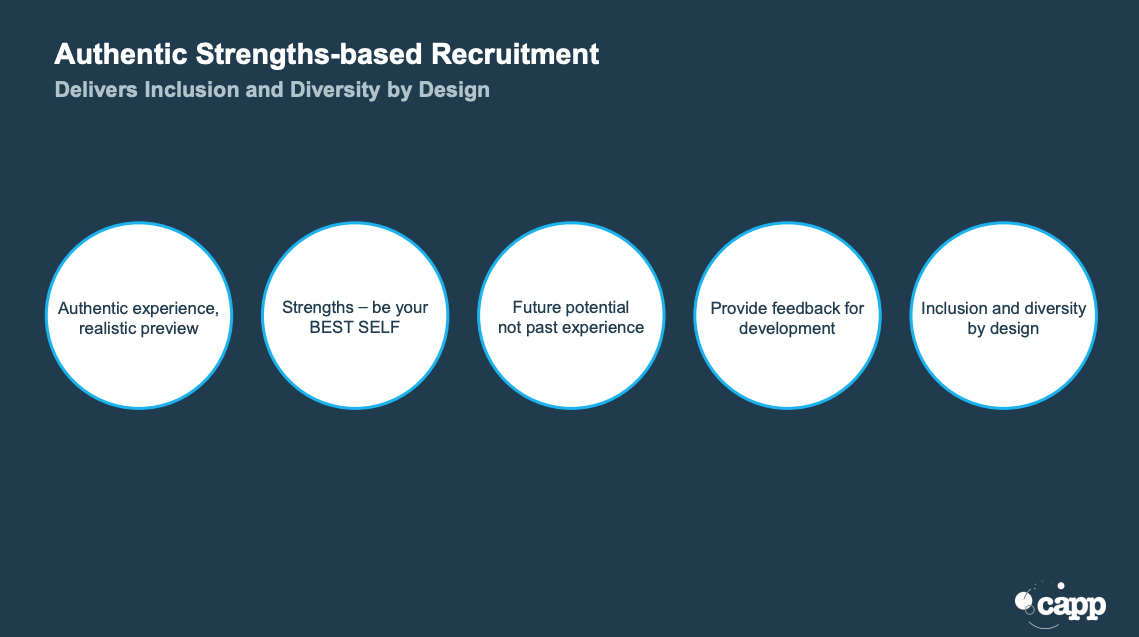 Delivering authenticity in assessment
"Measure what matters," Nicky advises. Make sure that what you're measuring is going to predict long-term success. Look at your top performers to establish a benchmark of strengths and stick to it to deliver consistency. 
Authenticity is also measured in your candidates' reaction to your company culture and values. So when building your assessment process, be sure to include exercises that immerse your candidates in your work environment. Read our case studies on the following pages to see examples of how this has been implemented.
Give meaningful feedback to everyone that goes through your assessment. Highlight individual strengths and suggest ways to improve if the assessment has been unsuccessful.
Below, Nicky shares the elements that make up Capp's online strengths-based assessment portal:
Fully branded, representative of careers website
Includes tutorial on how to complete each assessment and displays progress bar
Gives candidates autonomy so they don't have to do it sequentially
Is loaded with image and video about organisation and people behind it
Assesses through a virtual work experience
Includes compelling narrative to drive candidates through the platform

96% of candidates that have gone through Capp's assessment portal have reported feeling engaged by the experience, 99% found it fresh and current and 94% of successful candidates felt challenged by it.
The business case for authentic assessment is compelling. Successful client case studies have seen a 48% reduction in cost per hire and up to 21% increase in diverse hiring, Nicky reports. The process provides a fully unbiased review of candidates' potential for the role, saving recruitment teams significant time to focus on more high-value activities.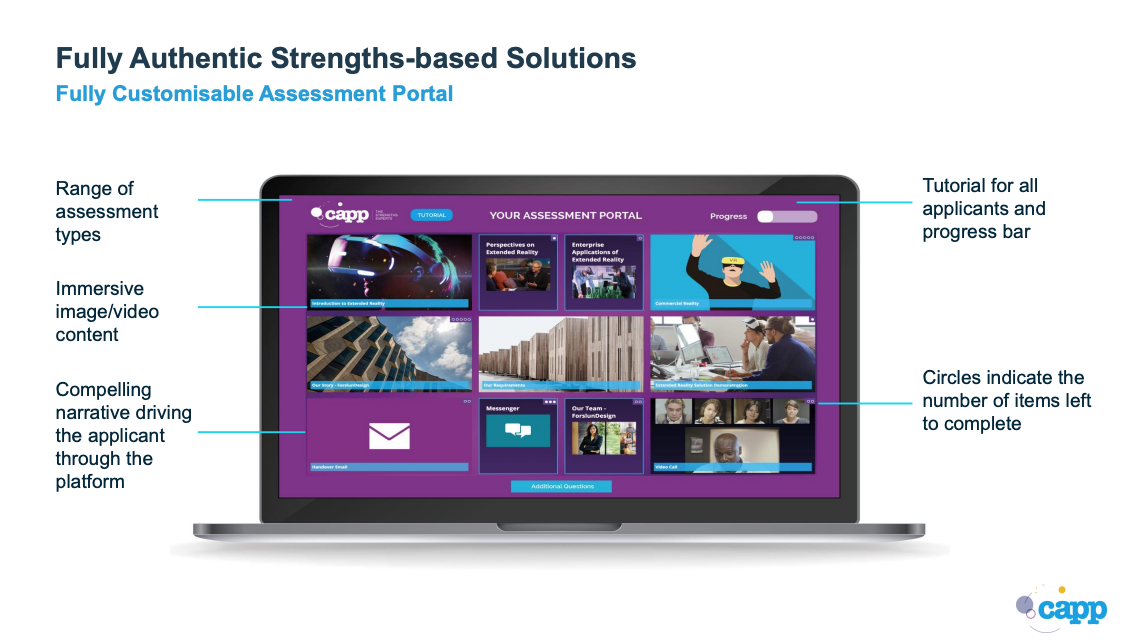 View Nicky Garcea's presentation
---
Nicky Garcea, Co-founder & Chief Customer Officer, Capp
"Effective Assessments to Hire the Right Talent"