You Already Have an Employer Brand. Where Do You Start?
A lot of organisations believe they don't have an employer brand but, in fact, everyone has one. An employer brand is what employees say or feel about the organisation they work for. However, some employers may not be doing everything they can to articulate their brand properly, they might not be clear on what they want to say, or might even get a lot of different opinions from their employees with no common thread. So while an organisation can't create its employer brand, it can influence it.
During our breakfast event, SMRS have shared an overview of what makes up a successful employer brand. They also included some tips on how organisations can use their employer brands effectively to attract the people they need and subsequently keep them engaged in the workplace. Below are some of the key points that came up in their presentation:
Culture
An organisation's culture and values are the most important workplace factors that candidates nowadays consider before deciding to apply, Sarah Sturgess, Agency Director at SMRS reveals. "When you talk about what it's like to work for your organisation, make sure you mention your culture and how people fit in with your culture."
Senior leadership is also important when developing an employer brand because culture stems from the way an organisation is being led, she adds. Understanding an organisation's vision and mission will help candidates identify whether they can relate to it and establish an emotional connection with it. This is especially relevant to millennial talent, who are increasingly looking to get a sense of purpose from their ideal job.
Other workplace factors that influence candidates' decision to apply include the prospect of developing skills and a long-term career within the organisation, work-life balance and, finally, the financial compensation. So when reviewing your employer brand, ask yourself, do you have an well-led organisation that people will feel at home in?
Your people
Most powerful employer branding stories are centred around people. Brand ambassadors are very productive and positive for an organisation's external image, as employee messages are twice more trustworthy than a message from the CEO in the eyes of candidates. Authentic content shared by employees (in the form of testimonials or "a day in the life" accounts) generate 8 times more engagement than those shared by HR or marketing teams because they are not considered to have a hidden agenda. But as people will constantly move on from your organisation, it's important to keep that content fresh and up to date, Sarah advises.
An employer brand is a constantly evolving piece. It starts with attraction but it's important for it to go around the entire employee lifecycle, Sarah explains. Below, she shares the 6 key steps in the development of an employer brand that every organisation should follow:
Talk - sit down and work out what your organisation is trying to achieve and its impact on the market.
Dig - get under the skin of who you are, what people think of you, who you compete with and your plans for the future.
Develop - use findings from employee surveys and market research to build a clear full picture of what you stand for and what you offer.
Express - create work that says the right thing to all your target audiences in a distinctive way.
Share - Use the right communication channels to get your message across inside and outside the organisation.
Tune - monitor and measure your brand's impact to see how it's being received and how it can be improved.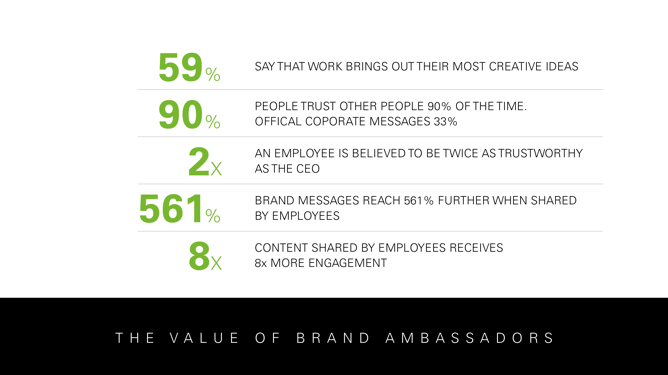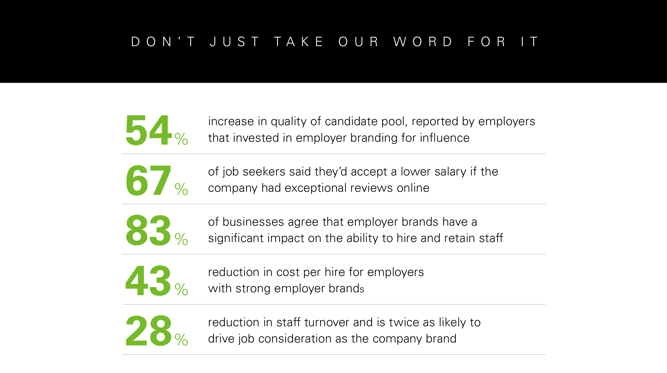 Making a measurable difference
In an increasingly competitive marketplace, in-house teams need to show a strong ROI on their recruitment engagement and activity to secure the necessary leadership buy-in for an employer brand.
"You want to make sure you can demonstrate in hard facts what impact your employer brand can have on your organisation, in order to build a business case for it," James Coyle, Client Partner at SMRS says. 67% of jobseekers will accept a lower salary if an organisation has exceptional reviews online. 83% of organisations say their employer brand has a significant impact on their ability to hire and retain staff and those who have invested in their employer brand have seen a 43% reduction in their cost per hire and a 28% reduction in staff turnover.
A clear and well-defined employer brand can offer candidates a window into your organisation and get them excited about the journey you're on. It can make the argument for those unsure about taking the next step in their career, it can give employers a voice in a competitive market and help them stand out from the crowd. These facts can help your business understand the measurable difference your employer brand can make if given the right attention.
View Sarah Sturgess' presentation
---
Sarah Sturgess, Agency Director, SMRS
"Developing Employer Brands that Will Make a Measurable Difference"
View James Coyle's presentation
---
James Coyle, Client Partner, SMRS
"Why Employer Branding Matters"