Trends in Financial Sector Recruitment
As technology continues to ingrain itself into more aspects of our lives, the financial sector has not been immune. The rise of digital payment services as well as digital banks and fintech solutions has rewritten the financial sector playbook, as 7 out of 10 people in the UK today bank online. With customers gravitating more towards digital products and experiences at the touch of a button, traditional providers in the industry have started to adapt their offering to meet these new demands.
Every year, the team at eFinancialCareers run a study of the recruitment activity in Financial Services across the country, tapping into talent demand data from their industry leading job board, as well as third party market data, to understand the opportunities and challenges employers are facing. George McFerran, Managing Director at eFC, shared some of last year's findings with us.
Across 2018, over 122,000 jobs were advertised in the FS sector. Of these, 26% came from banks, 20% from professional services, and the remainder from asset management and insurance, among others. The demand for talent in the sector has doubled across the last 5 years, suggesting a boom in the industry. But technology has driven a lot of this change, with 18,500 jobs advertised in 2018 in this space
Below we break down some of the data from eFC's findings, exploring the new skills in demand and the biggest hotspots for talent around the UK.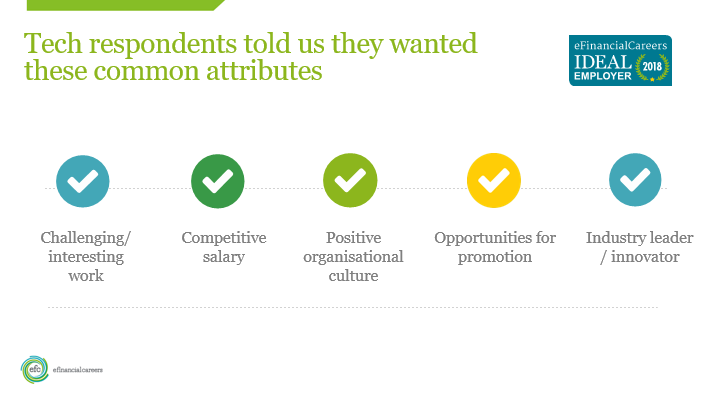 Tech in demand
Traditionally, FS employers competed against each other for talent. But with skills in mobile and software development, data engineering and UX/UI making their way into job ads, the financial sector is starting to compete with the wider sectors for the same candidates.
"These are not traditional banking jobs; these are skills that everybody wants. And if you're looking at talent attraction and brand awareness, your competitors are suddenly starting to look more appealing than you, more disruptive." There is a constant battle to try to make FS an appealing sector.
In addition, fresh talent is coming into the market fully trained but the suite of technology in demand is everchanging and tech that was popular 5 years ago is no longer popular today. So the pool of available talent doesn't meet the high demand from employers, George points out.
What your target talent really wants
How can FS employers stand out from the crowd? eFC have surveyed 6,000 workers in the industry on what makes their ideal employer. It came as no surprise that tech talent listed Google, Amazon, Apple and Facebook among their ideal employers, but financial providers like JP Morgan and Goldman Sachs also made the top 5. "These people are looking for a mission, a place to inspire them more than FS previously has been able to. This is what we need to correct," George explains. Respondents also listed competitive salary, positive organisational culture, opportunities for promotion, and working for an industry leader and innovator as the factors behind their decisions.
While the prospect of financial stability in an FS role appeals to them, the working hours and company culture don't. "The ability to be attractive to this group of people is incredibly important for the future success of our industry, so we have to be able to attract and retain them otherwise we'll suffer and be disrupted by someone better in the marketplace." Think about what you stand for and how you differentiate yourself from others. What are the real problems you are trying to solve to make a big impact? Use those to strike a chord with your candidates.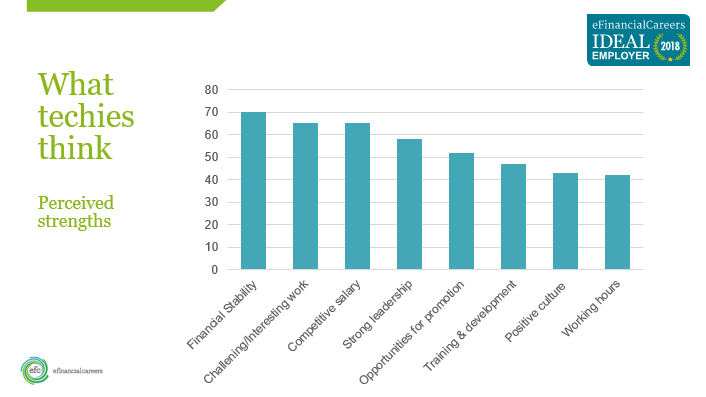 Financial hotspots in the UK
While it's no secret that London dominates the market in terms of opportunities (45% of FS jobs are in the capital), other hotspots around the country are starting to rise, particularly in Surrey and Kent, as more and more people are looking to move out of London to raise a family. Birmingham was also the fastest growing hotspot across the last 5 years, with a 93% increase in financial job postings since 2012.
The demand for tech talent in FS is also spreading out, as more places move their roles outside of London. Glasgow has seen an increase of 203% in tech roles in the last 5 years. That's where challenges around talent pooling are starting to arise, as employers are having to compete for people who are not used to working in FS and may have a different view of the industry.
To find out more about the study, check out George's presentation slides and video below.
View George McFerran's presentation
---
George McFerran, Managing Director, eFinancialCareers
"Trends in 2019 Financial Services Recruitment"