Growing without the Pains - a Metro Bank case study
Metro Bank began in 2010 as the first high street bank in the UK to be awarded a licence in 100 years. Its main differentiating factor lies in its retailer business model, giving customers the same experience as "walking into an Apple store", with very spacious bank branches and a very engaging customer service. This service is a product of a great internal culture, Paul Mouland, Recruitment Operations Manager, believes – "If we demand our staff to strip any traditional banking rules, we have to do the same for colleagues, surprising and delighting them and exceeding their expectations."
With over 4,000 colleagues now on board, every new hire goes through the same 2-day induction procedure when joining. "It's really important for us to embed culture from the beginning. Whether you're joining as a cashier or an executive board member, for 2 days you will join in with everyone else to learn about the history and expectations of the bank." Below Pauls shares 3 approaches his team takes to "create fans" for the bank and bring the right talent on board:
1. Internal fans
Creating a positive work environment internally means finding efficient ways for the team to spend their time on things that matter. "For our in-house team, we made sure we introduced an ATS with a diligent dashboard where all candidates throughout their entire journey are housed. This allowed us to measure and monitor each application to spot any misstep, so our recruiters could quickly action it for the candidate." The team is now saving 60-80h a week which they can rededicate to the candidate journey, building relationships with the relevant talent.
Employees should be a brand's biggest advocates, so Paul and his team make sure to reflect this on the right channels. They are using Glassdoor to spread word of what working at Metro is like, while also encouraging hiring managers and candidates alike to review the recruitment process straight after assessment, when the experience is still fresh. This initiative has increased their positive reviews threefold, earning Metro Bank a spot in Glassdoor's top places to work for in 2018.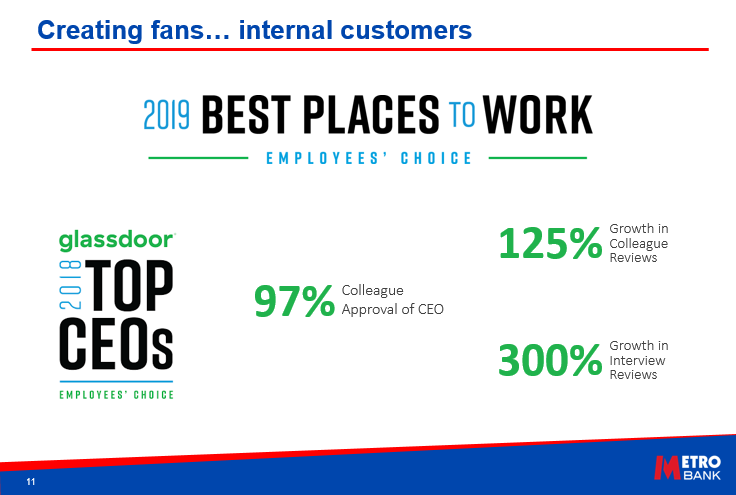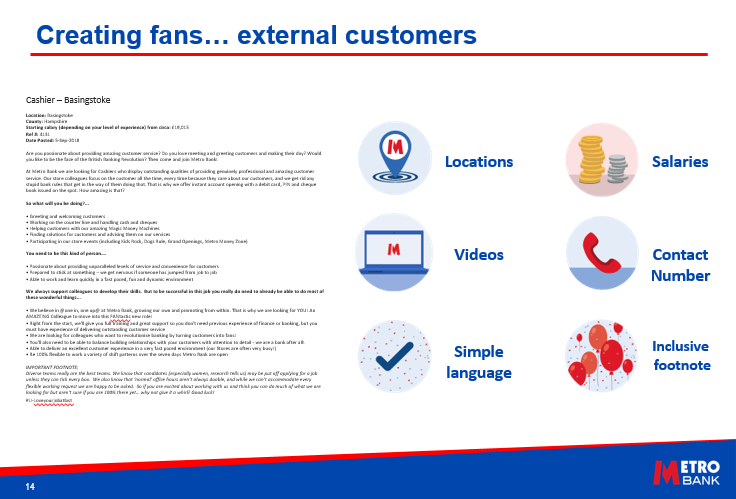 2. External fans
To turn every candidate into a fan, the recruitment team had to create a seamless and engaging experience, with several touchpoints across the business. Objective feedback is given to every applicant, regardless if they are rejected or accepted for the role, and silver medallists are signed up to a monthly newsletter, keeping them warm and up-to-date with vacancies and other activities within the bank.
"We hire for attitude and train for skill," Paul explains. "We don't have any requirements from graduate hires, but a need for people to come in and grow with business." Internal mobility is also highly prioritised, with an ambitious aim to get more branch staff into the main office. "These people already know the business and culture, we just need to give them a chance."
3. Inclusivity
Finally, the team is also dedicating a lot of time and attention to encouraging diverse and inclusive hires. They signed up to the Women in Finance Charter, to enable 30% of their leadership roles to be filled by women by 2020. An inclusive footnote is included at the bottom of every job ad as a final push for reluctant candidates who fear they may not meet every requirement. Contact details are also provided to help make the employer more accessible and welcoming in the eyes of the candidates.
Finally, the team are also introducing anonymous CVs to remove unconscious bias before the first interview, training their hiring managers to apply a fair, unbiased and consistent assessment for every applicant.
View Paul Mouland's presentation
---
Paul Mouland, Recruitment Operations Manager, Metro Bank
"Growing Metro Bank without the Pains"