Enhancing the Onboarding Experience through Technology
is tthe world's 19th largest employer, and global leader in services improving the quality of life on both an individual and an organisational level. Through their many services, Sodexo uphold the value that happiness and wellbeing in the workplace is key in the productivity and success of your teams.
Kathryn Pendlebury believes in the importance of candidate experience, and shared her insights to shed light on Sodexo's success and how these values can be impelemented in your recruitment strategy. Kathryn spoke about ATS, specifically in Sodexo's decision to use Tribepad- she explained some of the main points of importance when considering what technology to use in your recruitment.
See below how Sodexo have compared their previous and new systems, building on past mistakes to implement technology in the most effective way possible to get the most out of their pre-boarding process.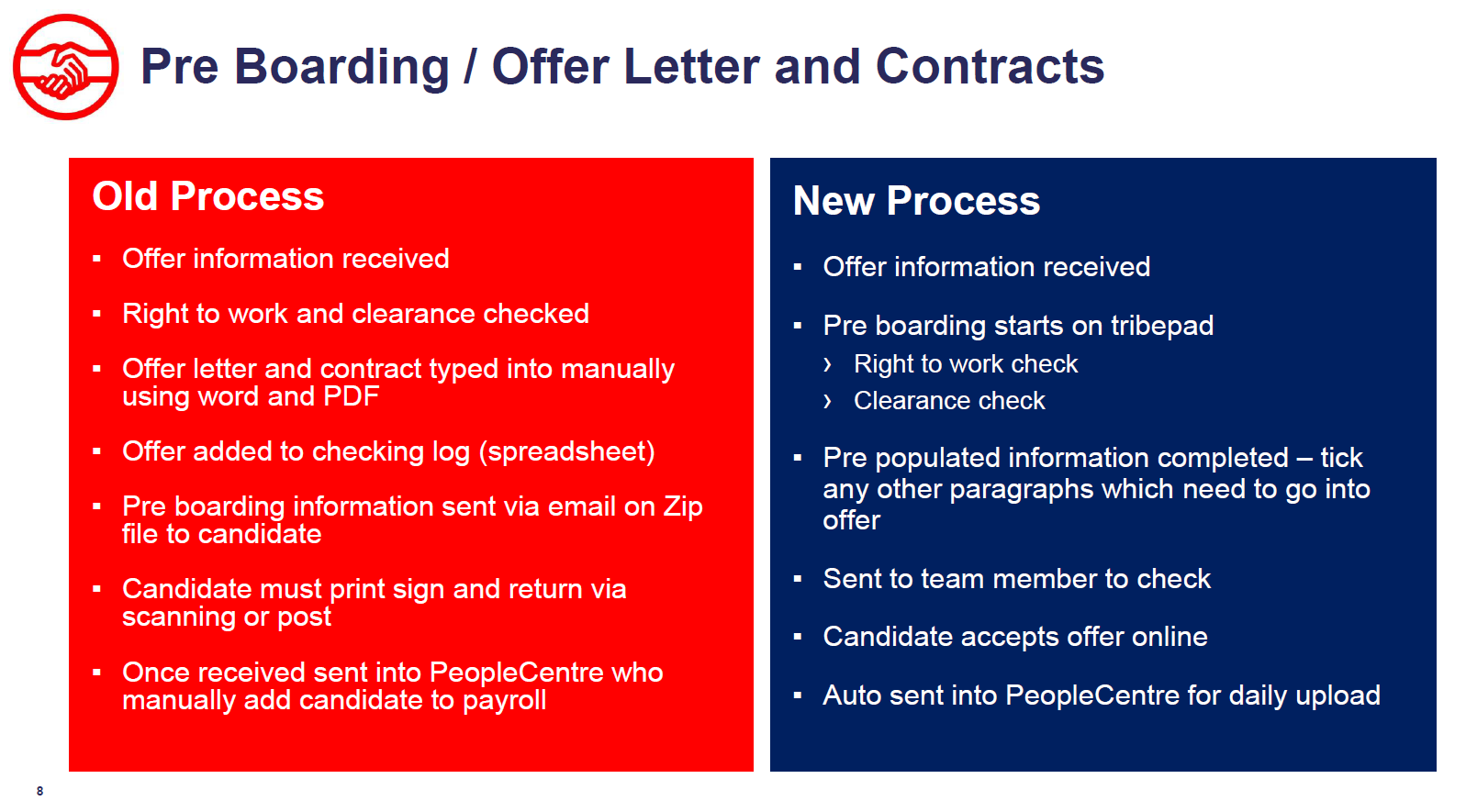 Pre-boarding and onboarding can be largely faciliated by automation: ensuring all of the necessary checks are carried out, pre-populated information, and even offer acceptance. The benefits of using such automation provides unparallelled benefits, most notably:
Reduction in error
Improved candidate experience- decreasing the amount of stress associated with a new job through endorsing flexibility and guiding them through the process in a clear manner
Time saving- the use of automation in the pre and on-boarding process undeniably serves to accentuate efficiency of the recruitment process, drastically reducing the extent of human involvement necessary
In an insightful case study, Kathryn explained the transformation from the old to the new interview process while highlighting the most significant points of improvement.
Hiring managers using interview templates
Inviting candidates to book the interview via online calendar, making it a more engaging and interactive experience while also providing them a sense of flexibility
Add interview slots to the system
Ensure the online process is straightforwards, engaging and user friendly by reducing the manual element, eliminating tedious back and forth emails or phone calls
View Kathryn Pendlebury's presentation
---
Kathryn Pendlebury, Strategic Talent Acquisition Business Partner, Sodexo
"Enhancing the Onboarding Experience using Technology "