Principles of a People-Centric Onboarding
"There is a lot of excitement and innovation happening with Employee Onboarding today. Organisations are recognising that the best hires are won and lost by their behaviour post-offer and beyond," Hugh Fordham, CEO of Hollaroo, explains.
In an increasingly competitive marketplace, top candidates know they're in high demand and will often accept multiple offers, basing their final decision on many factors, including their onboarding experience. The behaviour of their organisation and their treatment in the early days is a firm indicator of the culture and environment they'll experience in the long term. But the competition is not won the moment they walk through the door. With so many opportunities available and an ever-decreasing unemployment rate, people will not think twice about leaving a role if they haven't been 'warmed up to it' early enough or with sufficient sensitivity to their needs.
Employers need to do more to support their new joiners and combat significant turnover especially in early-career hires. A sure sign that this problem is going to increase rather than disappear in the future if onboarding isn't an area of focus for Heads of Talent. An engaging onboarding experience, centred around the person, not simply a process, will guarantee new recruits will settle into the organisation and build meaningful relationships that will help them in their career development long before day 1.
Below, Hugh walks us through the key principles of an onboarding process they have applied when building their technology, with the candidate experience front of mind, and the areas where automation can make a difference.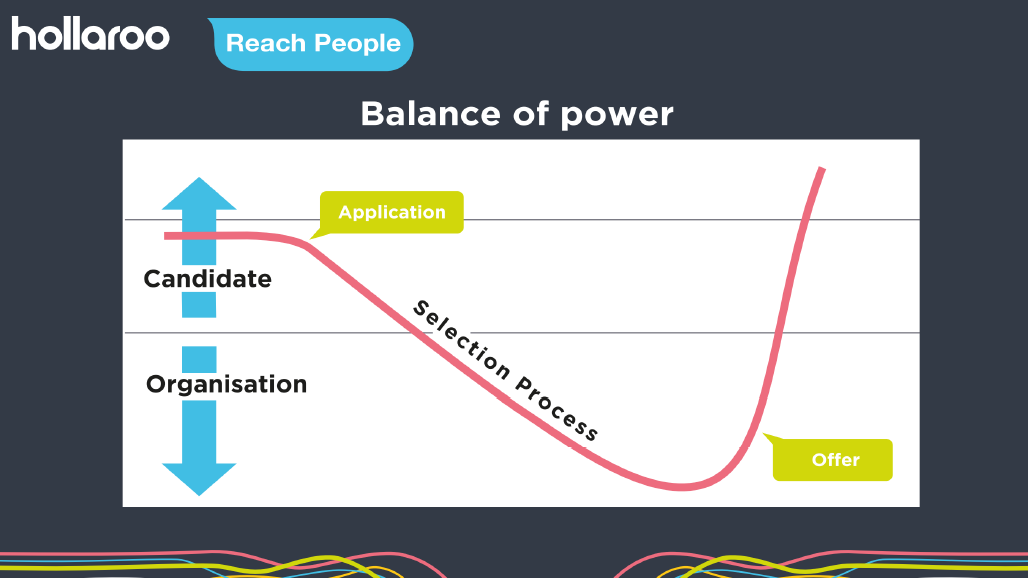 Balance of power
Everyone wants a great candidate experience, but this is often hindered by lengthy and disengaging recruitment processes. Think about the candidate journey – before application, the power is in their hands and it is your job to encourage them to apply with an enticing job ad and an authentic EVP that they can relate to. The assessment process (from application to the point of offer) typically lies in the favour of the employer. After all, you're the ones who know whether an individual is right for your firm. Then the power shifts back to your candidate to decide if they intend to accept. A candidate with an offer will often be aware of their value in the marketplace so they must be swayed to accept yours over your competitors – this is where onboarding starts playing a key role.
Respect, Relate, Respond
You want to make the candidate feel special during onboarding. Create a number of opportunities for them to feel like they are part of your team and immediately valued within your organisation. Don't force them down the route of a process, instead send them information and allow them to engage with it at their own pace. Onboarding shouldn't feel like boot camp! Be respectful of their time and send them friendly reminders to watch your videos or read your articles. By using onboarding technology, you will have access to key data on your candidates' activity so you can refine and tailor the experience for each. A far fairer and more inclusive way to operate – giving the space for individual preferences and differences in the way we each digest information and build relationships. Virtually or actually.
Your organisational drivers
As employers, you might have legal obligations to carry out regulatory background checks or gather certain datasets or information from your candidates but as these may take long time, it's important to keep these people engaged and warm during the process, Hugh points out. Send out content about your organisation, put them in touch with other new joiners to help them hit the ground running. This engagement will reduce the risks of reneges.
The Hollaroo hierarchy of needs
While traditionally, onboarding would only consist of sending out forms to fill and contracts to sign, employers are now jumping at the opportunity to immerse new joiners into the organisation before day 1. A useful way to re-imagine your onboarding approach is to use the Hierarchy of Needs model.
Hugh recommends building your onboarding on the pyramid – his hierarchy of candidate needs, as illustrated in the image attached. This includes:
Legal requirements (do they have all the necessary contract and compliance information?)
Practical needs to get started on day 1 (have they got the necessary hardware and log in details set up? Do they need business cards? Can they get into the building?)
Are they tooled up with the right Knowledge? (what do they need to know about the job and organisation before starting so they can get started fast on the first day?)
What Support might be helpful? (provide a space for them to ask any further questions they may have)
What could help them to quickly feel a sense of Belonging? (showcase your culture and help them build relationships with the team and peers).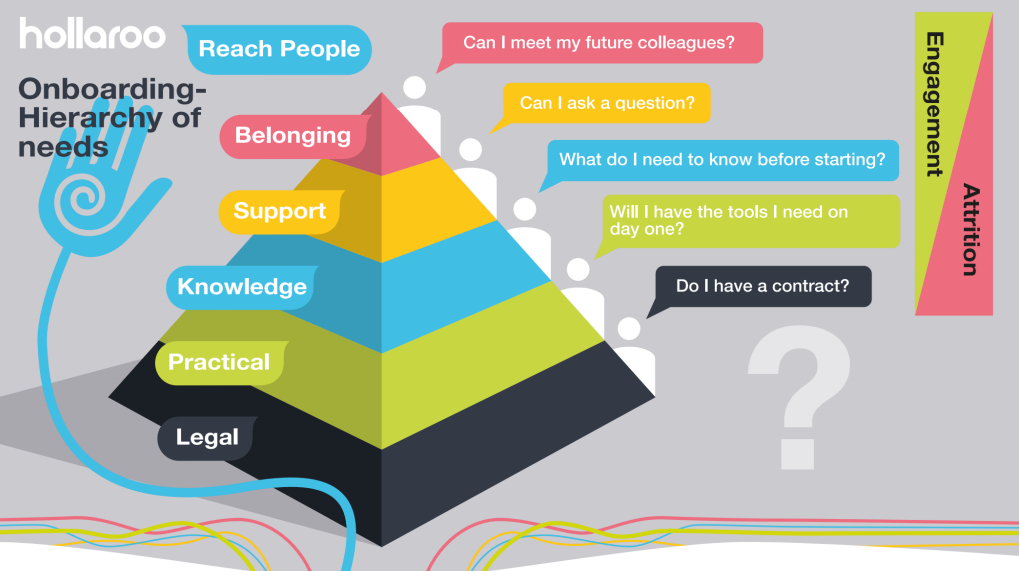 Who owns onboarding?
"Think of onboarding like a relay race", Hugh explains. "When an individual moves from being a candidate to being a contracted employee, the transition and responsibility for their welfare should be seamless and a team effort. Rather than building your onboarding process as a one-way conversation, make it a collective discussion so people can share information more easily and get acquainted before they start working together. Candidates can feel nervous about asking questions so it will be reassuring for them to see they are not alone. Hiring managers can also be nervous about saying the wrong thing so a team interaction can make them feel more at ease as well. Equally, a shared responsibility can ensure no-one drops the ball when it comes to the care and attention required in a new starter's early days!
How does technology come into play?
Developments in onboarding technology are making it easy for employers to create a quicker, more seamless experience for the candidate. This can include contract and offer management, sending out forms and notifications, and even helping people connect and build networks to create a sense of support and belonging. As the younger generation of talent is getting ready to dominate the market, these people are driven by having genuine relationships with their employer, and technology can help support that. Search for technology which can help you measure levels of engagement, and automate parts of your approach to ensure it doesn't become onerous and time consuming for your team to keep users' interest, and report meaningful MI to the business.
Measuring impact
"As onboarding has a relatively well-defined timeframe, you can get measurable results from the process quickly. There is a direct correlation between the harder and softer elements of success", Hugh explains. Survey candidates when they accept the offer and track their level of engagement with your onboarding process and with your organisation after they join. These findings will directly correlate to harder metrics such as attrition (the happier they are in the role the less likely they are to leave for a competitor).
Recruitment can sometimes be a minefield of data and measurements so getting the results you need can sometimes be a long-winded process. With onboarding, you can measure return on your investment quickly, then spend a little more time aligning with other hiring metrics.
In the next chapter we will share insights from our panel discussion with Transport for London and Capgemini UK, exploring how to build a business case for onboarding, what data to measure, the role of technology and staying compliant.
View Hugh Fordham's presentation
---
Hugh Fordham, CEO, Hollaroo
"The Evolution of Onboarding"