Employer Value Proposition
Employer Value Proposition (EVP) is the value an organisation can provide for the individual.
It's what sets you apart from competitors – the reason that candidates choose your organisation over another. JGP pride themselves on keeping EVP and the candidate journey at the heart of everything they do. It's key in making candidates feel they are an intrinsic part of your company.
Prior to recruitment, this can be achieved by telling candidates your story. JGP will help you understand your audience, what attracts them to a role and how to get them engaged in the work your organisation are doing. JGP can create a narrative that captures your vision and gets candidates on your side.
A strong EVP increases commitment of new hires by up to 29%. However, 74% of local authorities do not have a dedicated careers page but instead steer towards online job boards. Careers pages have proven an excellent way of attracting new hires, providing clear information about the roles and what it's like to work in your team.
There are 3 stages to achieving a successful EVP:
1) Discover. Research and understand the culture within your organisation and identify whether everyone is on board with the mission statement.
2) Analyse. Have an awareness of your candidate's needs and wants. 75% of candidates prioritise work-life balance over anything else in a role. This is a key point to highlight to candidates - as well as opportunities for career progression, training and development.
3) Design. Create a candidate persona through your market research and identify what motivates individuals to join your team.
4) Launch. Use employee handbooks, websites, advertising, social media and career pages to tell your story to candidates.

Attracting and Retaining Hires
One of the best ways to guarantee better engagement with potential hires is to market your company in a way that answers candidate's needs. Common traits that individuals look for in a company are flexibility, a strong work life balance and a sense of feeling valued.
Having measurements in place to assess the success of your EVP will enhance the retention of candidates. Being honest in your marketing approach means that you will only attract the most suitable candidates that fit in with your vision - providing a much better chance of retention.
Onboarding is another key component of retention. Making candidates familiar with company's values and mission statement helps them quickly feel at home and align their thinking with yours.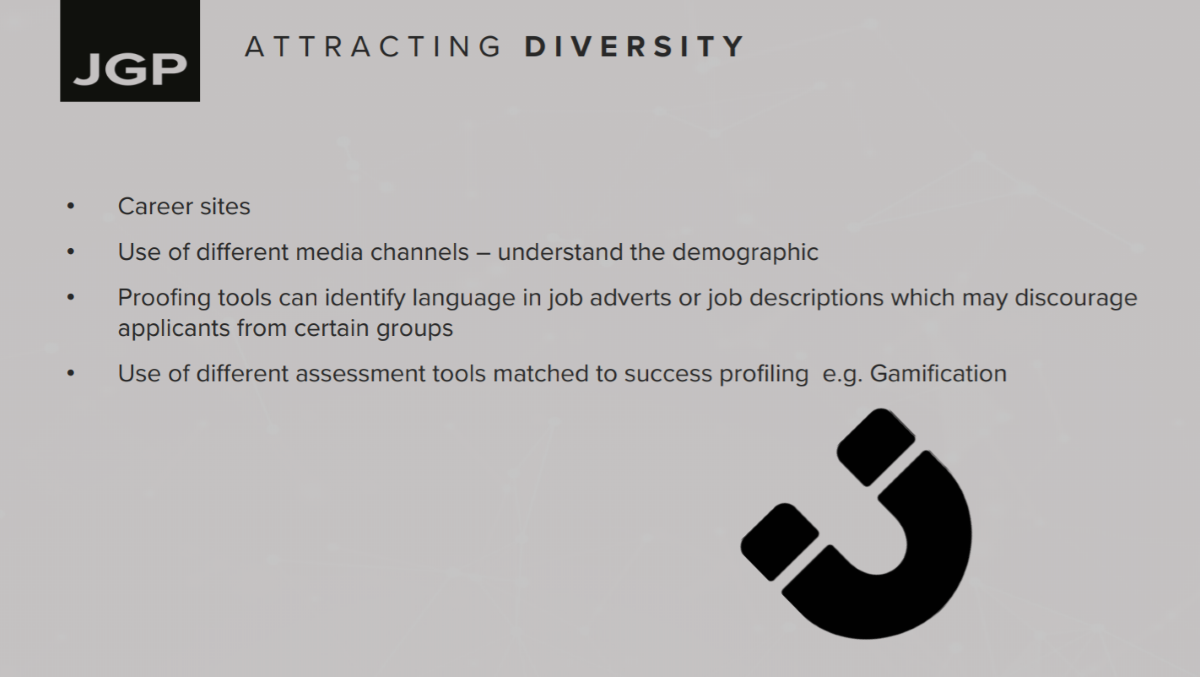 Inclusivity in Your Media
Inclusive language is intrinsic to the process of attracting a diverse range of candidates.
In a survey of over 10,000 millennials, 80% said an employer's take on diversity and inclusion is an important factor in deciding to work for them.
"Companies with a mix of ethnic minorities integrated into their team are 35% more likely to outperform their competitors."
Inclusivity in your language and across your media is fundamental in engaging with potential candidates and showing that you understand different demographics. Using a variety of different platforms will also maximise your engagement with the widest range of individuals from different cultural and socio-economic backgrounds.
View Neel Patel's presentation
---
Neel Patel, Digital Resourcing and Strategic Campaign Manager, JGP