Belonging - a British Army case study
Every year, the British Army recruits tens of thousands of soldiers, officers, and reserves. Because the recruitment marketing team receive the same budget every year with no access to further investment, they have to make sure that they make the most of the resources they have available, Emma Fulton, Head of Marketing Planning for the Army Recruiting Group at Capita, tells us.
But attracting a target audience of 16 to 24-yeard-olds to a career in the Army can pose many challenges. With unemployment levels at a record low and the majority of teens choosing the path of higher education, the Army's population and sphere of influence is declining.
Ahead of every campaign, Emma and her team are tasked with carrying out extensive market research to understand the needs and interests of their target audience and how they can build their campaigns to appeal to them. Their latest research found only 7% of their target audience knew someone in Army and 82% didn't understand what the Army actually does.
Furthermore, the offer of a career in the Army didn't seem to generate much interest, due to the lack of a work-life balance, and the constant travels and perils of the job. "The Army is a lifestyle and it requires a big leap of faith," Emma explains. This, coupled with very strict eligibility rules reduced the Army's reach from an audience of 8.7 million to 5.7 million.
"Our research also showed an ambitious generation looking for a job with purpose." Emma's findings, backed up by third party research from Princes Trust and UCL, have shown an epidemic of disengagement with the normal 9-5 job. 72% of their interviewees saw themselves as ambitious and 74% wanted a job where they could feel like their work matters. "We are fortunate to know our target audience really well, which is vital when doing recruitment marketing," Emma adds.
For the past 3 years, the Army has gone to market with a very powerful recruitment campaign, based around the sense of belonging:
2017: when the campaign first came out, it conveyed the power of the team and showed the Army as a place where new recruits can finally fit in.
2018: a year later, they added a new layer to the campaign, that of attainability. Because people couldn't see themselves as part of the Army, the marketing team had to make it more approachable and relatable to their core audience, regardless of faith, ethnicity or sexual orientation.
2019: now, in its last year of iteration, the campaign is exploring the opportunity for new recruits to achieve something meaningful and really make an impact in their career.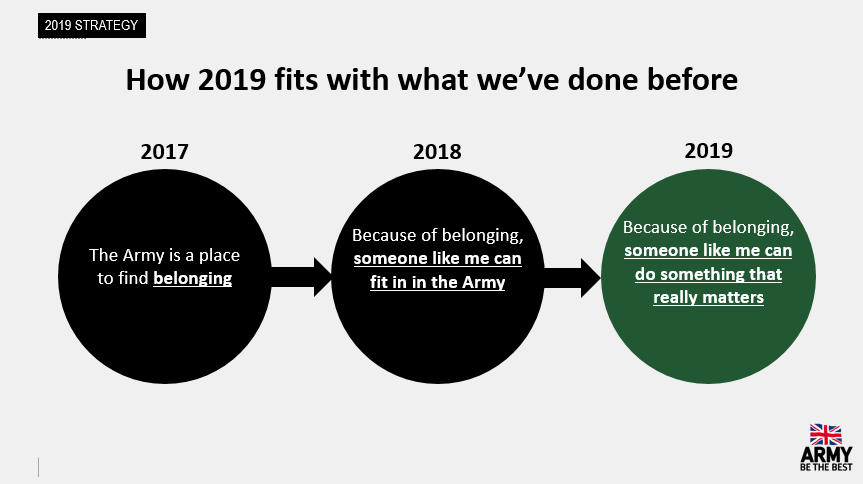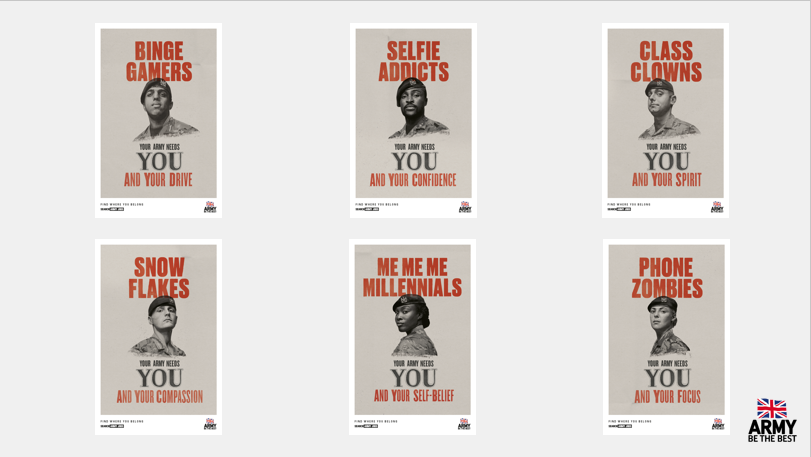 The performance of every campaign is also carefully monitored. "We run brand tracking every quarter and once a year we do facial coding for the emotional response people have to our ads." In December 2018, applications for the Army were at a 5-year high. Brand tracking also showed interest in the Army is growing within the target audience, as parents and rejectors were also targeted because of their career influencing potential.
A variety of channels were used to drive applications down the funnel – billboards, TV and radio ads, social media influencers. Further down the funnel, candidates were retargeted with online videos and social Q&As on skills, training and the offer stage. This year's Out of Home advertising targeting snowflakes, selfie addicts and binge gamers was a bold move to grab the public's attention and ignite debate. "In an age of ad blocking, 98% of ads go unnoticed so we needed to do something brave with little budget." The ads received a lot of media attention and in their first week gained a 4.8 billion PR reach.
View Emma Fulton's presentation
---
Emma Fulton, Head of Makreting Planning for The Army Recruiting Group, Capita
"Belonging 2019: The British Army's Recruitment Campaign Briefing"