Recruitment Marketing: Vital Concepts and Powerful Tactics
Every day, people are bombarded with thousands of marketing messages, cleverly filtering out the ones relevant to them. This places marketers in a challenging position, as they need to constantly come up with new and exciting ways to rise above the noise to reach their target audience.
Recruitment is no different. In today's candidate-driven market and lowest unemployment rate in almost 45 years, employers are in stark competition for talent, with marketing as their most powerful tool. "Candidates are not like consumers, they are more like B2B buyers – the job choices they make are life-changing. They do their research before deciding to apply," Adam Gordon, CEO & Co-founder of Candidate.ID explains. The problem with talent attraction is that 80% of them are not in the market for job opportunities, but we don't know which 80%.
Understanding candidate behaviour is critical if we want to identify the ones who are hire-ready. To do this, we have to monitor their interaction with our company brand, and find opportunities of engagement with all of them, whether they are cold, warm or hire-ready.
Digital marketing leader Richard Harless refers to the marketing funnel as the best tool to measure consumer behaviour against. Adapted to recruitment, the funnel will be made up of the following stages:
Awareness

– candidates have heard of your organisation and are aware that you're an employer but they're not ready to research you in more details just yet.

Interest

– this is the stage where people are trying to find out more about your organisation. They visit your website, start requesting more information about you as an employer. This is your opportunity to make your employer brand work for you.

Evaluation –

this is where people are starting to picture themselves working for you and your opportunity to prove the credibility of your employer brand. Make sure your Glassdoor profile as well as your senior leaders' LinkedIn profiles are up to date and offer a transparent window into your organisation.

Trial –

this is where decide to take you for a "test drive", in other words apply.

Adoption –

this translates to a successful hire, the candidate has accepted the offer.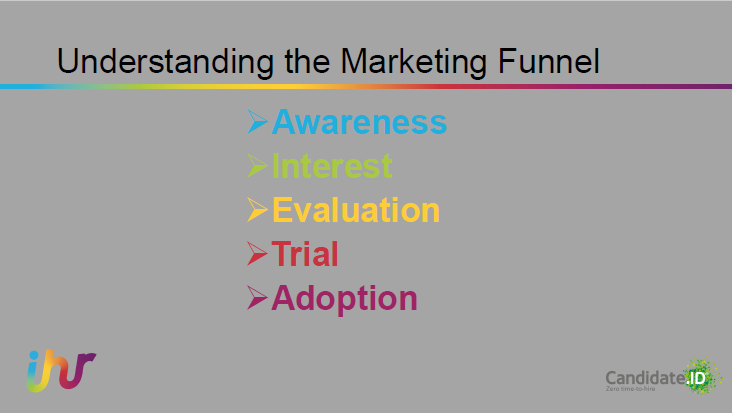 Managing the funnel
Marketing creates interest. Closing the funnel requires the use of content (videos, blogs, billboards) as a CRM tool and the use of data from the CRM database to retarget candidates who haven't reached application stage yet, and build further relationships. "Using data helps to create better, more easily managed relationships with candidates and allows for better results," Richard concludes.
So how do we understand which stage of the funnel each candidate is at? Recent developments in talent pipelining technology has enabled employers to track candidates' engagement with their online presence (from opening emails, to visiting their social media and Glassdoor pages, or reading their job ads). This effective performance marketing approach is enabling in-house recruitment teams to automate communication at scale and focus their human time only on candidates at the evaluation stage.
"Our relationships with candidates are ephemeral. We only interact with them when we want to sell them career opportunities. We are treating them as commodities," Adam explains. We need to nurture that relationship with them, even in the interim. Most successful companies are those that offer candidates something relevant throughout the length of their career.
Look at the total addressable market in the region you're recruiting from – those are the people you need to be nurturing. If you don't understand who is cold, who is warm and who is hire-ready you don't have a pipeline. And having a clearly defined talent pipeline will help you shortlist 50% faster, Adam adds.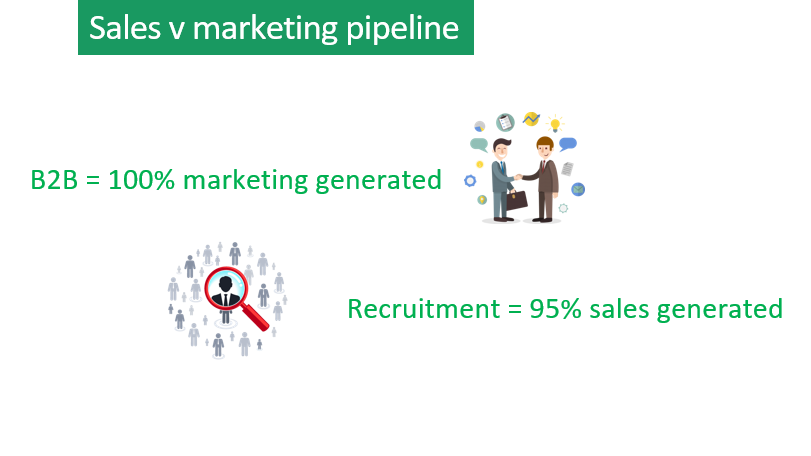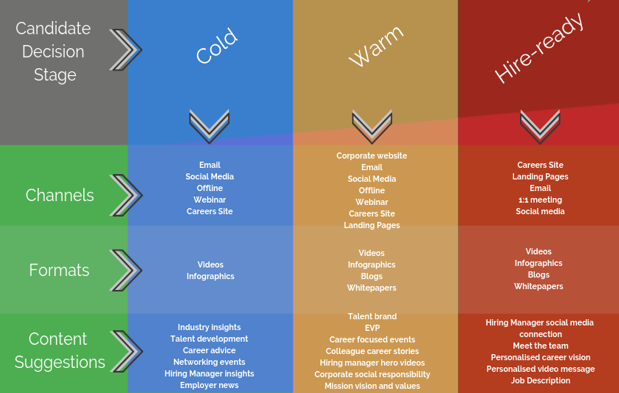 So think about content for people at these different stages and how you can make it useful for them:
Cold candidates

don't want to be sold any opportunities; they will care about industry insight, career advice, networking events.

Warm candidates

will want to know about your organisation, what's on your investor relations, CEO interviews, company mission and values, Corporate Social Responsibility.

Hire-ready candidates

are looking for a hard sell, they will want to connect with Hiring Managers on social media, learn about the team on the careers site, read job descriptions.
If you've got an active nurture campaign that the candidate is interacting with, that would provide the legal basis for owning and processing their data under the GDPR. But it's fundamental that you continue to nurture people throughout your ownership of their data, and to regularly check in with them to make sure their details are up-to-date. This is called "progressive profiling", Adam explains, and can be applied when granting candidates access to high-value content. Simply ask them if they are still in their current role, and the form will update your database with their answer.
View Richard Harless' presentation
---
Richard Harless, Digital Marketing Leader & Former Senior Country Director at Shazam Germany
"Advanced Marketing for Recruitment"
View Adam Gordon's presentation
---
Adam Gordon, Co-founder & CEO, Candidate.ID
"World Class Marketing in Talent Acquisition Vital Concepts and Powerful Tactics"