Hints & tips for recruitment technology integration
Kim Tolley, Interim Head of Implementation Services at , began by posing the question: 'What is your utopia? Your ideal scenario?' encouraging others to consider what the 'perfect' process would look like with regards to the integration of technology systems. There are several important factors to consider when picturing this: budget constraints, how much change this will propel and the effect this can have on your team, as well as having the infrastructure necessary to support it. Considering these will help you decide what's realistic for you as well as what you want to get out of your automation.

The main principles behind driving system integration are predominantly user experience and finding top talent, as well as how it will lead to having leaner processes while significantly enhancing compliance. Looking at candidate satisfaction is a useful way of tracking the candidate journey and assessing user experience.


In an increasingly competitive marketplace, successful integration of systems will accelerate your chances of attracting top talent, helping you to build stronger talent pools faster.
The question is: what should we connect? Kim went on to list a few of the different areas and technologies that are typically seen to benefit from being integrated – APIs, checks, video interviewing, HR & Payroll etc. There is a wide range and extensive list of systems that can, and should, be considered when looking to integrate your tech stack but ensure that the key characteristics you're looking for are attainable. A key example of this could be single sign-on (SSO) which when implemented correctly avoids login issues and is seen as an extremely simple and efficient way to increase the user experience. Other features when implemented should enable a more seamless experience for all those involved within the candidate journey; candidate, recruiter and hiring manager.
How else can system integration benefit you?
Integrating your systems is conducive to efficiency across all areas of your business. Not only does it make data more accessible, but it gives hiring managers a greater degree of flexibility. Kim shared a multitude of ways system integration can benefit you:


· Checks can be a part of the onboarding process but can be done even prior to this to save time such as if you need to vet candidates. You can gather the data upfront, and then implement integration at the appropriate time to accelerate the process.
· Video interviewing is not favoured by all employers and to some is one of those love/hate topics, but it has been found to certainly enhance the candidate experience due to its interactive nature. It allows the face-to-face element without the difficulty of logistics.
· Single sign-on and API's can be integrated well and together can be highly constructive for updating data and records in the system.


At the core of your technology systems is user experience. Having efficient, effective technology will greatly improve the candidate experience overall and the journey of all those involved. Integrating solutions will help you to identify top talent with precision, accuracy and at a much faster rate than if it were done manually and these leaner processes will reduce the amount of errors made as well as saving money.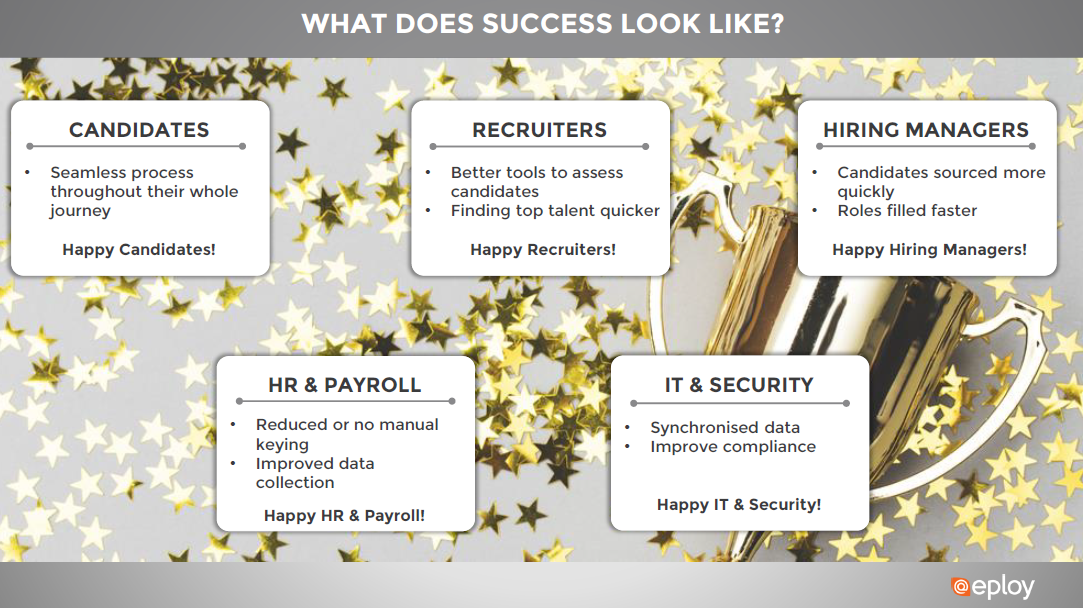 What does success look like?
For candidates, the goal is to provide a seamless process from the time that they engage with your business, right the way through to their interview process and then to onboarding.
For recruiters it is providing the best tools to find and assess top talent.
HR and payroll teams also reap unparalleled benefits through reducing and even eliminating the manual elements. Integration, in this sense, can overcome the issue of double entries in data as well as generally improving the quality of data collected with validations being built into them.
For IT and security-related queries, single sign-on data can be synchronised and subsequently can increase compliance around consent and a range of other IT-related queries. The time taken around these tasks and the increased efficiency will be a tell-tale sign of the success brought by system integration.
View Kim Tolley's presentation
---
Kim Tolley, CEO, Intermin Head of Implementation Services, Eploy
"Hints and Tips for Recruitment Technology Integration"