The State of STEM Careers Education
The UK is faced with a shortage of 40,000 graduates every year in the fields of Science, Technology, Engineering and Maths (STEM). With an additional shortage of 173,000 skilled workers, this is costing the industry £1.5 billion in additional recruitment costs.
Over 50% of students aged 13-18 have zero interaction with an employer every year at school and less than 1 in 5 are happy with the careers advice they get in relation to STEM. This means that most school leavers end up with poor knowledge of the STEM careers available to them and with little exposure to employers who are desperate to recruit them.
STEM employers need to do more to help build up their pipeline of STEM talent and work together with local schools to engage students from a young age and open them up to the opportunities of a career in the sector.
In a survey of 1,500 secondary school students from across the country, Sprinpod have explored their concerns and expectations from the world of work and how they want to engage with employers. Below, we bring you the key findings of the State of Careers Education Report, as presented at our breakfast.
Choosing a career in STEM
By age 14, three quarters of students already know what industry they want to work in. 7 out of 10 are interested in a career in STEM, including 1 in 2 girls and 80% of BAME students. This shows the need for employers to engage early to influence students' choice of GCSE subjects. By Key Stage 5, just under a quarter of students are still undecided about their career path – this shows a clear gap in careers advice which needs to be addressed, Sam Hyams, Managing Director at Springpod explains.
Of students not interested in a career in STEM, 32% were shown to misunderstand the definition and implication of the subject. "There is not enough advice on what skills students need to be successful in STEM," Sam explains. Lack of ability as a reason not to pursue STEM was shown to increase as a concern during exam years, with girls twice as likely to cite this compared to boys. Introducing them to relatable role models in the field can help increase their motivation and confidence.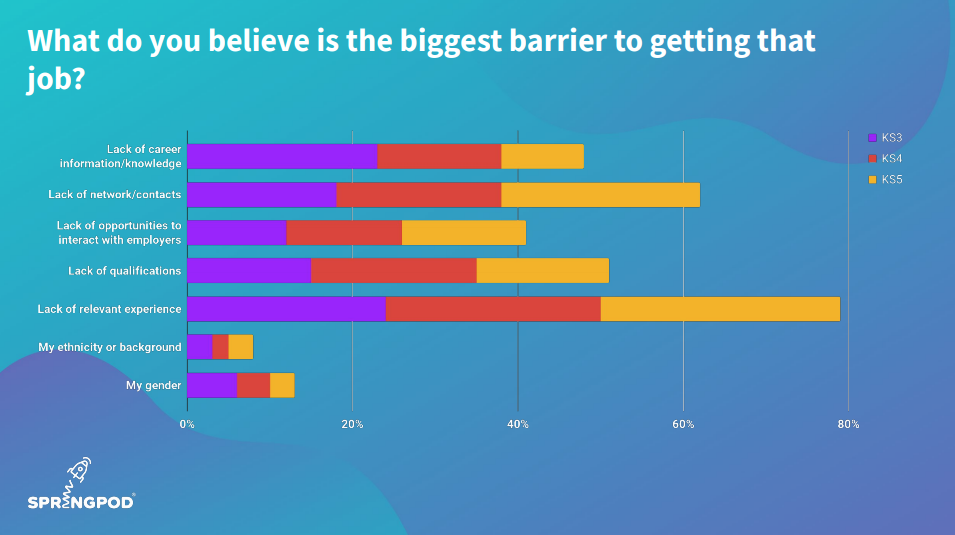 Key barriers for students
Students at all stages cited the lack of relevant experience as the main barrier to getting their dream job in STEM. A lack of network and contacts came in second, while a lack of career information and knowledge came in third. "70% of students' concerns can be addressed by actions that employers take," Sam highlights.
Nearly half of students surveyed felt it is either impossible or very difficult to find work experience, with 45% of students at Key Stage 4 citing a lack of support from school preventing them from gaining relevant work experience. 30% of students at Key Stage 5 cited a lack of connections as a barrier. "Professional networks need to be established from an earlier stage," Sam explains. Getting that early engagement will help students feel more confident about asking employers questions about the world of work.
48% of students want to go into higher education and only 13% into apprenticeships. This is because schools have only recently been mandated to provide advice about apprenticeships and alternative routes into work and, as a result, need a lot more assistance from employers with the advice they provide.
Among the students who want to go into an apprenticeship, half are concerned about actually getting a place on a programme, while 11% are unsure about the value they would get from the experience. Employers must show a clear progression within the organisation to educate both students and their career influencers (parents and carers) of the value of STEM apprenticeships.
When asked about their priorities when considering an employer, 35.5% of students would go by field of choice, 25% by salary, perks and benefits, and 20% by good career prospects. Twice as many girls than boys valued workplace culture and people.
While mainstream schools still have a long way to go to equip their students for a career in STEM, University Technical Colleges came to life as a reaction to this. In our next chapter, we explore why Lord Kenneth Baker, former Education Secretary, decided to introduce these institutions nearly a decade ago and what impact this has had on the next generation of STEM talent.
View Sam Hyams' presentation
---
Sam Hyams, Founder & Managing Director, Springpod
"The State of Careers Education Report 2019"