A Balfour Beatty Case Study
Balfour Beatty is the UK's largest infrastructure organisation with over 15,000 employees and 1,600 hires made last year. With an intake of over 26,000 applications each year, Balfour Beatty has set up a designated high volume recruitment team, delivering 25% of hires across the whole business. Their objective is to deliver on volume hires directly whilst providing positive stakeholder and candidate experience.
"We implemented a new way of working for our high volume family," Joanna Chamberlain, Senior Recruiter at Balfour Beatty explains. "We met with key business stakeholders to understand their requirements and talk about what went wrong in the past." As hiring managers would have very little involvement with the recruitment team previously, the organisation would rely heavily on agency-sourced talent. But by reaching out to stakeholders and trying to understand their challenges, the high volume team has transformed itself into a strategic partner for the business.
New initiatives
The biggest challenge area for Joanna and her team was attracting and engaging with blue collar workers. "This talent group doesn't spend time on typical sourcing channels like LinkedIn or job boards, so we had to look at alternative routes to market." The team went back to basics and decided to place ads in local papers, radio stations and trade publications. They also used Facebook campaigns to reach target candidates through sponsored ads and encouraged current employees to share the vacancies with their networks as well. All ads and campaigns spoke clearly about progression and development opportunities and with a relatively modest budget, the team managed to fill all 2019 vacancies by September 2018.
The team also brought on board a new ATS, which allowed them to create a constant pool of hire-ready talent, introduced assessment centres for roles with more vacancies than available talent, and arranged group interviews to help fill multiple roles quickly.
Last year, Joanna's team directly sourced 378 roles from a total of 380, at a £17 cost per hire.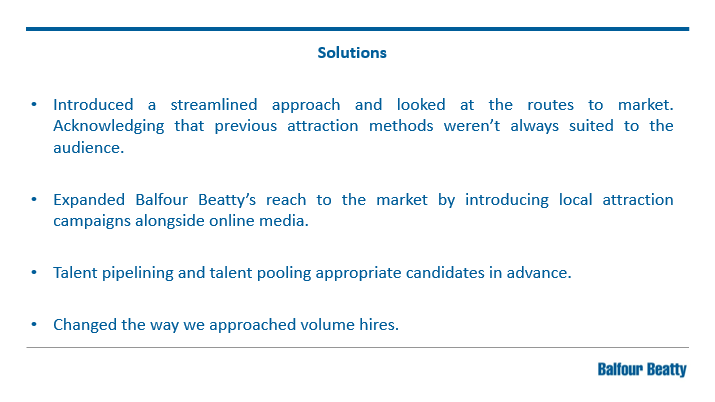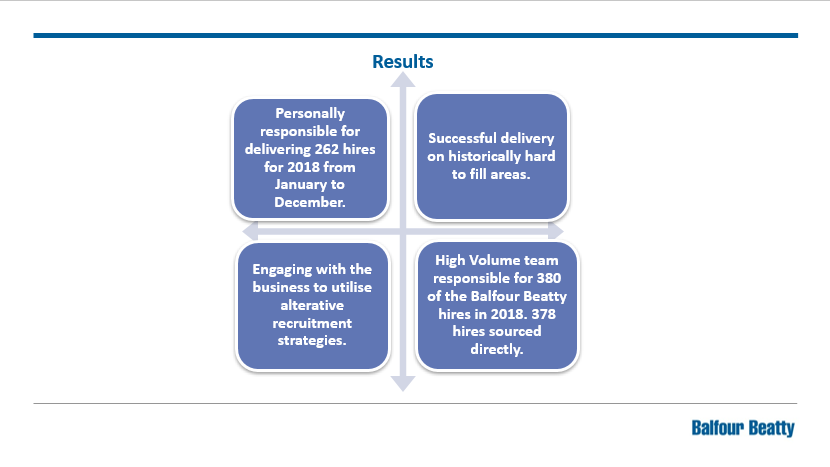 Quantity v quality
"It's not just the job of the recruiter to bring people on board," Joanna says. "We need constant buy-in from the business because these people would know best what talent would suit their vacancies."
She then went on to share some sure-fire tips that have helped her team deliver on quality, as well as quantity in volume recruitment . "Don't promise and underdeliver," she urges. Come up with a strategy when you take a briefing so that you are very clear on what you need to do and when you need to achieve it by. Keep clear timelines and communicate constantly with your stakeholders to manage their expectations of what the recruitment process is going to be. Understand the role you recruit for and break it down to offer realistic and achievable solutions.
View Joanna Chamberlain's presentation
---
Joanna Chamberlain, Senior Recruiter - High Volume, Balfour Beatty
"Volume Recruitment at Balfour Beatty"