Blue Square is a field marketing agency founded in 2013, with a head count of 1,100 employees based in Hertford. When Head of Talent, Joe Howell, joined the team in June 2017 to bring on board the volume recruitment model, 98% of roles were agency-filled, costing the business up to six figures a year.
Joe's team was very limited in the resources they had available, with just one job board, no employer brand and no ATS in place (instead a 9-page long application process and up to 15 spreadsheets used across the entire recruitment journey, resulting in a high candidate drop-off rate). Furthermore, a lack of technology meant the team couldn't track how many applications they received per vacancy and hiring managers had no interview process in place.
New initiatives
Joe knew he only had one thing to do. "We stripped back processes for all 150 vacancies we had. We assessed our team, our hiring managers and mystery shopped the candidate journey." They used the Deloitte Talent Acquisition Maturity Model (pictured) to assess where on the chart they stood from a proficiency level.
"We set up metrics for our application numbers, our pipeline, time to fill and time to offer," Joe explains. "As our vacancy process had been very reactive and ad hoc, we implemented a full end-to-end recruitment and HR system to help align our processes." The new ATS has helped the team build an active talent pool, an agency portal to standardise their candidate intake, a hiring manager portal featuring a CV and interview feedback form, and internal application portal, to facilitate internal mobility.
A year on from the new initiatives, Joe and his team have seen an increase in application numbers from 4,000 to over 25,000. They grew their talent pool to over 10,000, keeping it engaged through quarterly communications and relevant vacancies alerts. Their new ATS has provided them with automated reports and dashboards with a clear view of all candidates in the pipeline, helping them reduce agency spend by 98%.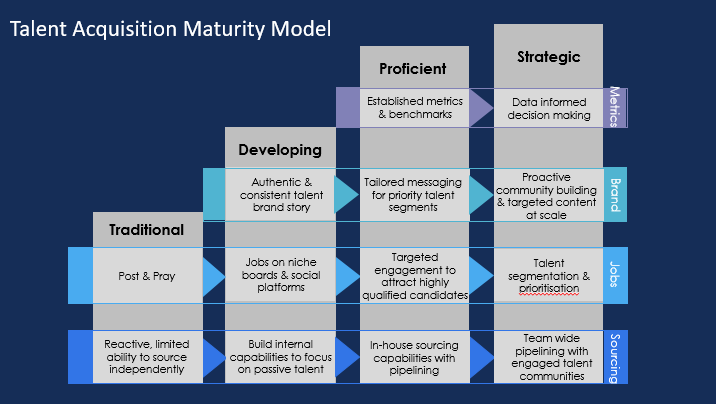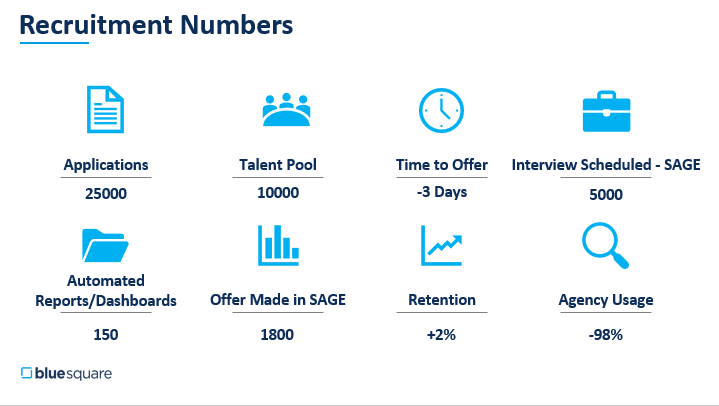 Quantity v quality
Joe brought in a behavioural framework for interviewing and used it to train all hiring managers to ask the same questions and get a mutual understanding of what good looks like. "As recruiters, we do a lot of work with our hiring managers to get a sense of what talent they are looking for. We work in a collaborative partnership and our KPI is retention."
They also implemented a performance leadership model, exploring the employee journey and existing opportunities for progression for every role within the business.
"This all ties back into our attract-develop-retain piece," Joe explains. By offering transparency on career paths, advertising company values and culture, offering in-role mentoring, accredited learning and a robust internal progression plan, Blue Square have grown their retention rate by 2% since 2017, with no intention to stop.
View Joe Howell's presentation
---
Joe Howell, Head of Talent, Blue Square
"Volume Recruitment at Blue Square"