Volume Recruitment – Delivering the Numbers and the Experience
"Looking back at the last 10 years, we have seen some astronomical change in the way we communicate with each other and the way we store information. But as technology is progressing at a staggering rate, is the recruitment industry keeping pace?" Adzuna Co-founder, Andrew Hunter, contemplated in his opening speech. While major job boards have not experienced much innovation in the past decade, 2014 saw the beginning of a hike in recruitment and HR technology investment, with over £3 billion invested in recruitment technology in 2018 alone.
With a wealth of information at their hand, from salary trends and company hiring patterns to employer reviews and multiple levels of online connection, jobseekers today expect much more from their hiring experience. At the same time, recruiters and hiring managers are also looking for better candidate matching experiences, more insight into their attraction campaigns, an easy-to-use ATS and overall faster and more efficient processes – especially when hiring in volume.
"Innovation in recruitment technology promises to deliver happier jobseekers and happier employers through improved job search experiences, better ROI spend and next level talent matching." We are poised for huge changes in volume recruitment if we embrace the potential of automation and allow in-house teams to focus their time on tasks that require human judgement and personal interaction, the Adzuna co-founder concludes.
Below, we explore how taking a marketing approach to volume recruitment can help us deliver the desired number of hires while also providing candidates with a positive recruitment experience, regardless of the outcome.
To find out more about Andrew's predictions for the future of recruitment, watch the video at the bottom of this page.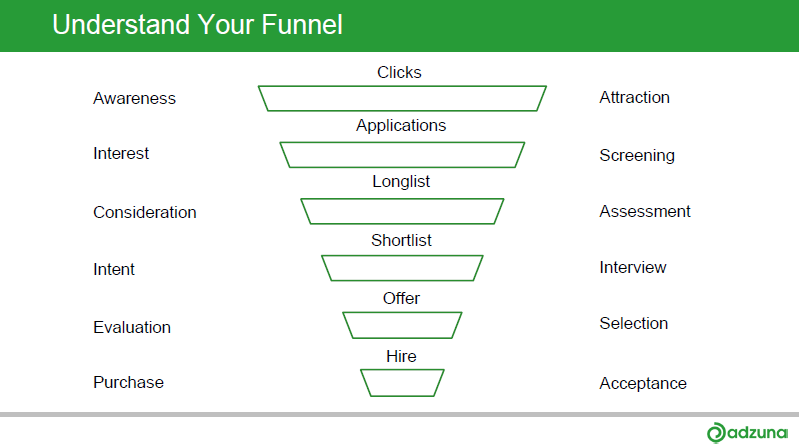 Applying marketing tactics to volume recruitment
In today's candidate-driven market, the lines between recruitment and marketing are becoming increasingly blurred. Just like consumers, passive candidates require tailored, relevant recruitment marketing messages to be swayed into a new job opportunity.
In traditional marketing the concept of the funnel is applied, whereby marketers use information to drive their target audience from a product awareness stage all the way to purchase. The same concept is starting to become more and more relevant in recruitment, with 6 corresponding stages for the candidate journey (as pictured). "The funnel can be key in working out how many people you need at each stage of the journey, in order to get the desired number of hires," Iain Wills, Head of Sales at Adzuna, explains.
It's important to measure successes at each stage of the funnel and identify the ones where you struggle the get the right numbers in to be able to work out how to adapt your processes, from budget to attraction channels or even messaging. "Traditionally you need more human resource to fix blockages in your recruitment funnel but nowadays there are various technology solutions you can implement at scale," Iain explains.
Prioritising candidate experience
Once you've made sure every stage of your funnel is optimised for candidate experience (from using landing pages to scenario tests, assessment days and team meetings), getting hires in is easy. It is much more difficult to offer a positive experience to rejected candidates, Iain points out. It's about giving them a proportionate level of feedback and interaction so they can walk away feeling that they got something meaningful from the application, despite it not being successful.
Failing to bring enough talent down the funnel can come down to various reasons, ranging from a lack of basic skills at application screening, to more technical skills at longlist and culture fit at shortlist. At each stage you get to know your candidates better and you must try to make sure that when you manage them out of the process you give them an appropriate amount of attention to the stage they are at.
Iain lists a number of solutions to help volume recruiters provide that positive experience at down the funnel: 1-click application forms, chatbots and CV parsing, psychometric assessments and gamification, video interviewing skills assessment, referencing software.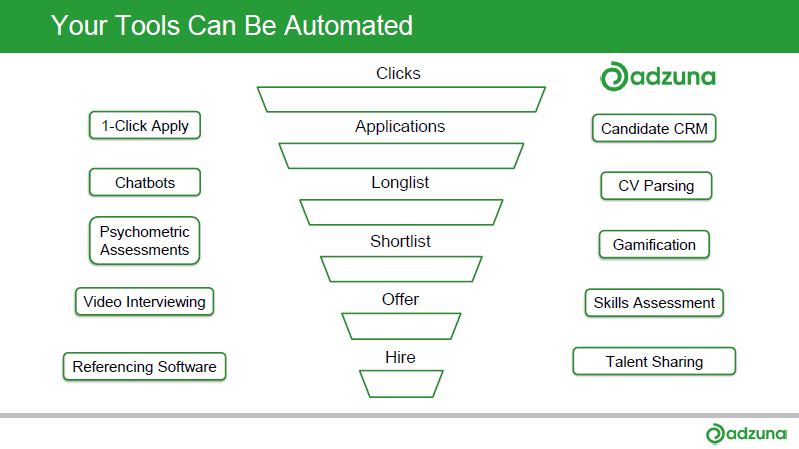 View Andrew Hunter's presentation
---
Andrew Hunter, Co-founder, Adzuna
"The Changing Face of Job Search"
View Iain Wills' presentation
---
Iain Wills, Head of Sales, Adzuna
"Volume Recruitment - Balancing Quantity with Quality"